A couple weeks ago I Rocked the Bump with Shell from Things I Can't Say and now I'm Rockin' the Baby.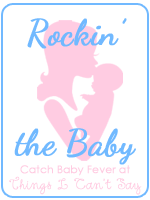 The day I delivered my daughter I was high on epidural, adrenaline, and pure bliss.
She was perfect in every way and I couldn't believe she was finally here, real, and ours.
But she was and my heart was full.
Related Posts: