The management has been reviewing the cleanliness of my home as of late.
And by management I mean me.
And by cleanliness I mean clutter and crap left around every corner and flat surface by my family.
Papers left strewn on the table, forgotten once they were picked up from the mail. Toys on the floor awaiting the next time they'll bring joy. Sippy cups behind furniture.
So before I go crazy I'm sharing the recommendations from the management.
And there's no better day to share the requests than Post It Note Tuesday with Only Parent Chronicles!!
Go link up with your own Post It's!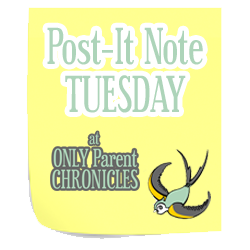 Related Posts: