Wide grins, loud squeals, and calls for mommy flow through the park,
repeat at the mall,
echo off the walls at the grocery store.
These squeals used to bring a smile and a glace, nothing more.
But now the voices and huge smiles are calling for me.
And I can't get to them fast enough!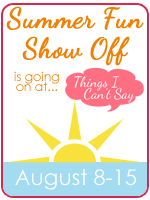 Linking up with Shell at Thing I Can't Say
Go check it out and link up your Summer Fun for a chance to win prizes from Ubisoft
Related Posts: