Every day on the way home from work I see the same thing.
Something not many people do.
It used to drive me a bit insane.
But now it just makes me giggle.
To find out what it is go visit me over at KLZ's place.
I'm over there helping her Tame Insanity.
I hope she doesn't have high expectations.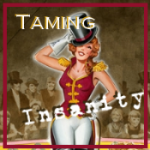 Comments are closed, please go show me some love at KLZ's place.
Related Posts: