This week my friend Robin had a lovely visit with my friend Bruna and the result of that visit is this post!
The discussion over at Bruna's was how mom's (and dad's) store all of the wonderful crafts and paintings that our children create for us.
How do we pick which one's to keep and which ones to throw away donate?
How do we organize all of the creations so that we can look back on them in the years to come?
People?
Let me share my idea for organizing my daughters crafts with you.
Start out by purchasing a large scrapbook with the clear folder inserts that will allow you to place items in them.
Create a "title page" for your insert, you can include the year, their height, best friends names, aspirations, favourite colours, class trips, etc. This you will do for each grade.
Pick out your favourite pieces of artwork and crafts.
Now put your title page in the front of the scrapbook sleeve and the art work you have chosen behind it.
Once completed all of your child's crafts, stories, and artwork will be categorized and you will have a page documenting their awards, friends, and activities!
Fun!
Do you have any interesting ways to store your kids art?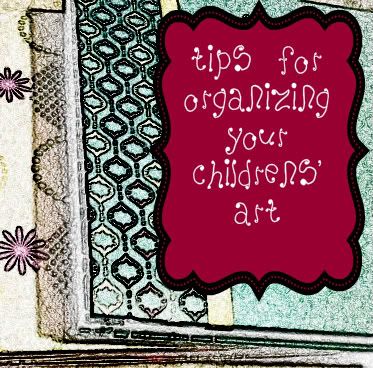 Pin It
Related Posts: