We all have our moments.
The ones we are super excited about and want to scream to the rest of the world.
The ones we want to bury down inside ourselves and lock up indefinitely.
Moments that define our character.
Test our integrity.
Moments that make us proud.
I am over at Kir's Corner today sharing a Proud Mommy Moment
Please come and join me there.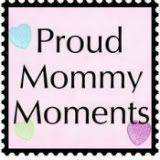 Related Posts: