It's that time of year again!
Taming Insanity's Annual Antler Up!
For many of you this means nothing..
Shame!!
For others you are giddy with anticipation.
Perfection!
Bloggers around the world are geared up for KLZ's annual Antler Up! contest long before it starts, and begin the planning stages months in advance.
This year, because it's my first event, I thought I would play it cool.
You know… let the toddler have the spot light.
But I couldn't just leave my readers with "Toddler Antlers."
AND?
I kinda like putting them on….
When Santa requires back up he calls on his Boyeeez from the streets YO!
Christmas isn't Christmas without a bottle of hairspray, a guitar, and a headache from too much head banging!
I'm a teenager and I don't even know the real meaning of the word emo. Don't buy me anything for Christmas… commercialism… marketing strategies.. blah blah blah…  I just want to be cool but I will never admit it and if there's nothing under the tree for me I will stop off to my room and write sonnets.
NO! You may not guide Santa's sleigh, I don't care what he said, I AM YOUR MOTHER!!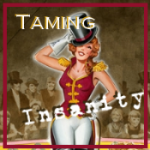 Related Posts: