It's Mental Health Awareness Week from May 7-13 2012 here in Canada.
I advocate for Mental Health Awareness not only because of my own struggles but because of the clients I work with on a daily basis and because of my many friends who have battled mental illness throughout their life times.
"About one in five people – over six and a half million Canadians – experience a mental disorder during their lifetime." (source: Canadian Mental Health Association.)
Think about having coffee with a group of five girlfriends.
One of you has, is, or will experience a mental illness.
The fears attached to this reality are stifling. Not only to those who are diagnosed, but to the families living with the person affected, and to the people the individual comes into contact with every day.
"Stigma originally meant a physical mark of shame. Now, it's an invisible mark that sets you apart from others." (Source: Canadian Mental Health Association)
The person struggling fights their battle often in silence, separating themselves from friends and positive circles of support, while those they come in contact with draw conclusions about their appearance, behaviour, and stability.
Misunderstandings, tales, and discriminations keep those affected with a mental illness from finding employment, getting proper health care, having suitable housing, securing counselling or resources necessary for their recovering. So the cycle continues.
This week is meant to break those invisible barriers on both sides of the fence and inform communities about mental illness.
So how can you help?
1. Talk about mental health week, encourage others to go to the Canadian Mental Health Association website and learn more about Mental Illness and it's affects on individuals
2. Ask questions. Those who struggle are often willing to share how the fight affects them
3. Change your language. We are people living with bipolar, depression, PPD, schizophrenia, mood disorders etc. We are not Bipolar, Depressed, Schizo's, etc.
4. Is there someone in your life right now that you can support? Have you shut someone out because you are afraid? Reach out and ask how you can help them.
5. Speak out! When you see something happening in your community that you don't agree with, don't be a bystander, that makes you just as much a bully as the bully themselves. Stand up for someone who can't stand up for themselves.
Advocating for Mental Health, allergy, and head trauma awareness is why I blog. I want readers to know I understand what they have been through, I am fighting for them and I am listening.
What do you Speak for?
For more information please go to Canadian Mental Health Association.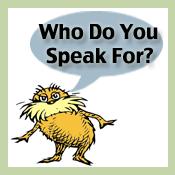 Pin It
Related Posts: